Our HomeAway from Home — Europe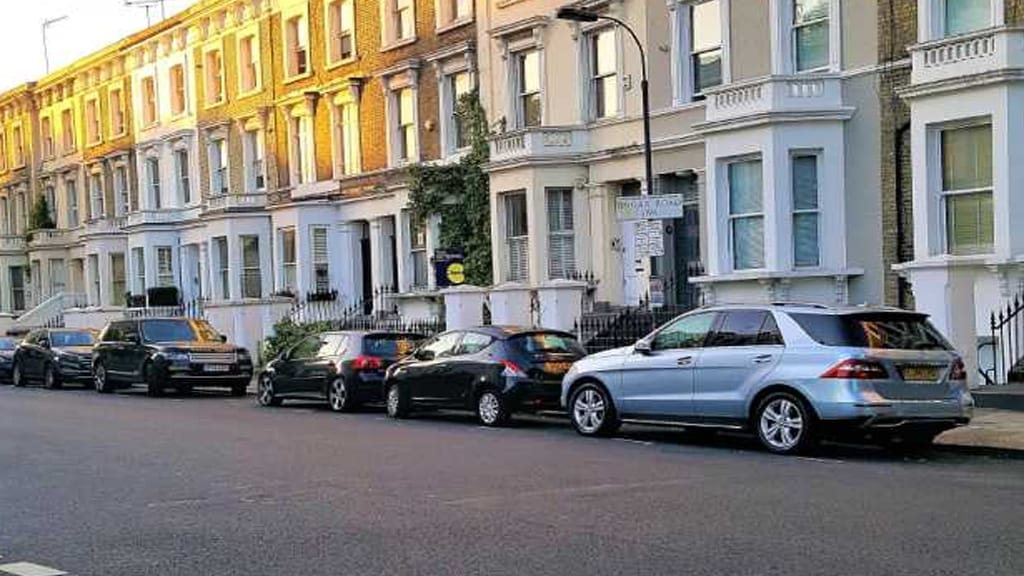 Earlier this summer our family of four flew off to London and Paris for an extended visit. I'm an Anglophile and a history lover so I was pretty excited to take our teenagers on their first trip to Europe.
Mindful of the difficulties they might have adjusting to the time difference between California and our chosen destinations, we wanted our kids to be as comfortable as possible. So we decided to try something new. Rather than stay in a hotel like we usually do on vacation, we rented a flat in both cities through HomeAway (now part of Vrbo vacation rentals) instead. It was one of the best travel decisions we've made as a family. Here's why:
MORE SPACE AND PRIVACY
No matter how much fun your family is having on vacation, after a while a hotel room starts to feel a little cramped, especially if you're there for more than a few days.
We were in London for over a week and rented a flat in the Fulham area of Southwest London (see our London neighborhood in the photo above, and our living room in the London flat in the next photo below). Our flat was actually a townhouse with three bedrooms, a fully equipped kitchen, a lovely living room and dining area, three bathrooms, and a rooftop terrace – MUCH more space than our family budget would have allowed in a hotel in the same area.
In Paris our apartment was quite a bit smaller than our London abode but still more spacious than a hotel. We had two bedrooms (one with two twin beds), two showers (one of which was located fully exposed in the master bedroom – a little quirky but cool), a separate toilet room, and a comfortable living/dining and kitchen area complete with washing machine, all in a modern security building.
The kids really appreciated having their own space in our homes after long days of sightseeing. And as an early riser, I appreciated having the freedom to putter around and enjoy my tea without disturbing anyone while they were still sleeping.
Our flats in London and Paris didn't come with housekeeping (some rented flats do but you pay more). Call me crazy, but I actually appreciated that we didn't have anyone coming in to clean after us while we were away. When we stay in a hotel I always feel that we need to get out of the room in the mornings so housekeeping can come in and do their thing. Since we were staying in an actual home, we were our own masters and could clean as our schedules allowed without feeling rushed. Somehow it made this mom feel a little bit more relaxed. Go figure.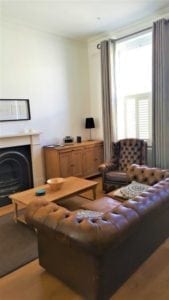 LOCAL LIVING
Staying in an actual British home gave us a day-to-day idea of what living in London might actually be like.
We had fun exploring our Fulham neighborhood for the best markets, closest tube stops, and favorite gelato treats. We began to recognize our neighbors and the time they left for work in the morning. Each day during breakfast we looked out our kitchen window to watch a family of foxes living clandestinely among the hedges in our neighbor's oh so English garden.
We also got to experience the lack of air-conditioning that is typical of English homes but it encouraged us to spend more time together on the great rooftop terrace in the evenings where our son played guitar and we enjoyed a visual expanse of the city.
We became accustomed to a European-style washing machine that doubled as a dryer with warm air that never quite got our clothing dry (we hung up our clothes on the dryer rack provided and we were just fine).
While we shopped for food we became familiar with British terms such as "minced meat" for ground meat, and "orange with no bits" meaning orange juice without pulp.
In Paris we lived in the 4th arrondissement on the right bank of the River Seine (see the inside of our Paris apartment in the photo below).
We are not fluent in French so had to manage while we were out and about. Most of the people we encountered in Paris spoke some English so it wasn't that hard but when we were in the markets we had to guess about what type of milk or cheese we were buying because we couldn't quite make out what was written on the labels (it was all delicious). Our Paris apartment had air conditioning (thank goodness).
The owners of our London and Paris flats left us prepared notebooks that informed us about our neighborhoods, where the shops were located, where to catch public transportation, and who we could call if we needed assistance with anything during our stay. Brilliant!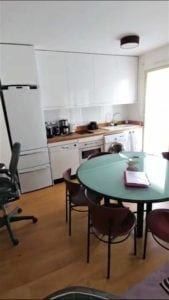 MONEY SAVING COMFORT
Since we had our own kitchen in London and Paris, we were able to make some of our own meals, a real money saver for a family of four. Plus the kids enjoyed having their favorite cereals on hand and being able to grab a snack and drink whenever they felt like it.
Being able to do our laundry whenever we needed to was not only cost effective, but a time saver and added to our general comfort.
Overall, the cost of our flats was significantly less expensive on a per diem basis than staying in a nicer hotel in both London and Paris. It was a win-win situation all around.
Have you stayed in a rented apartment or house during a vacation? Did you prefer it to a hotel? I would love to know about your experiences and if you have any tips for comfortable accommodations for families while traveling.