Great Gift Idea: Toffee-Pecan Cookie Mix Jars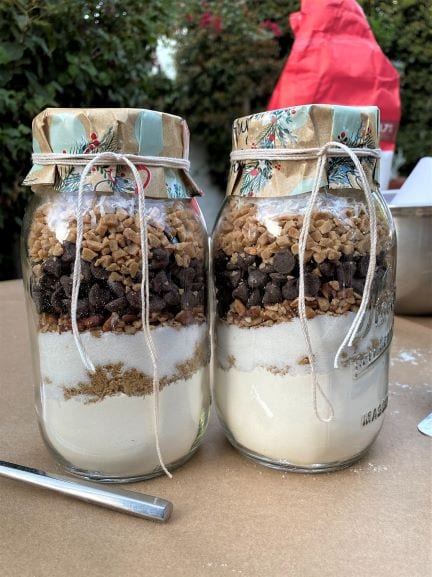 Do you have one of those friends who always has the best creative ideas?  My good friend Salve has the best projects going (I'll be writing a separate post about how she single-handedly transformed her backyard including pouring her own concrete – now that's a DIY for you). Last weekend we got together in her backyard to create these Toffee-Pecan Cookie Mix jars as holiday gifts.
This is a great gift idea for those friends who love to bake, love to eat, or are just a little difficult to shop for (we won't go there).  They add that homemade touch and don't cost a lot to make, either.
This mix contains all the dry ingredients to make these absolutely delicious and easy-to-make cookies.  Plus, the cookie mix jars look so pretty and festive.  Even your friends who don't bake will be tempted into the kitchen with these little gems.
Here's What You Need to Assemble the Cookie Mix Jars
Makes 1 mix:
1 1/3 cup all-purpose flour
1/3 cup packed light brown sugar
1/3 cup granulated sugar
½ teaspoon baking soda
½ teaspoon cream of tartar
¼ teaspoon salt
1/3 cup chopped toasted pecans
2/3 cups bittersweet or semisweet chocolate chips
½ cup almond toffee bits
½ cup shredded coconut
You can also switch out ingredients to create your own unique mix such as substituting dried cranberries, cherries, or apricots in place of the toffee bits. Try different chocolates too (milk chocolate instead), or toasted macadamia nuts instead of the pecans. Got for it!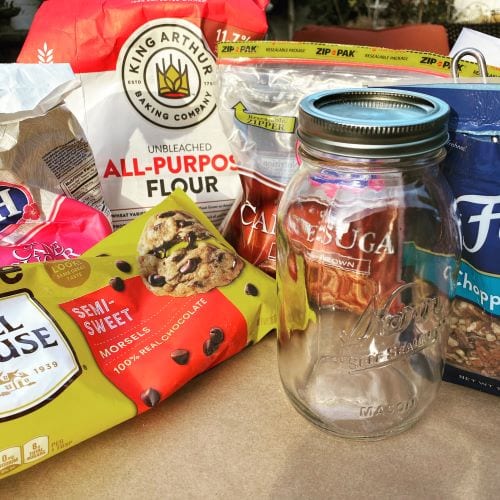 How to Put the Ingredients Together:
Start filling the cookie mix jars with the flour first and then work your way down the list of ingredients, topping it all off with the shredded coconut.  Close the jar with the lid.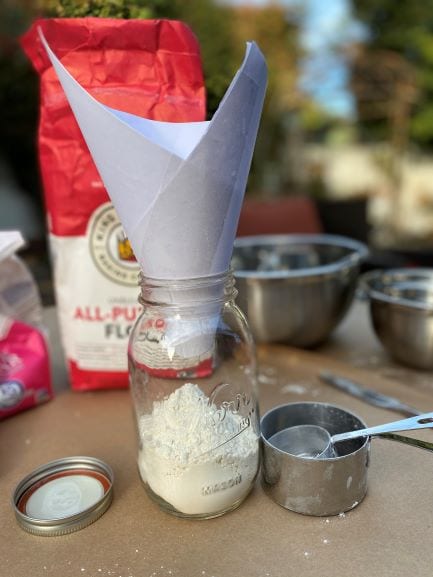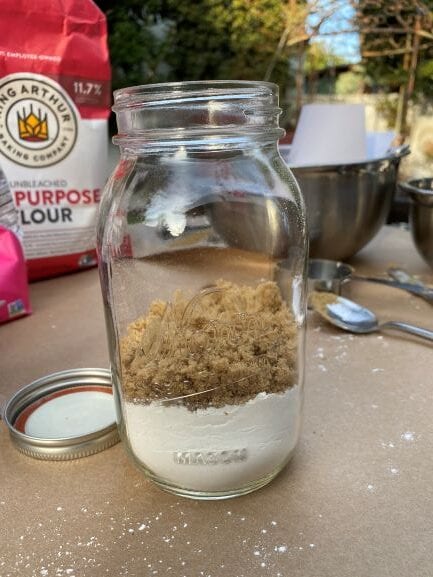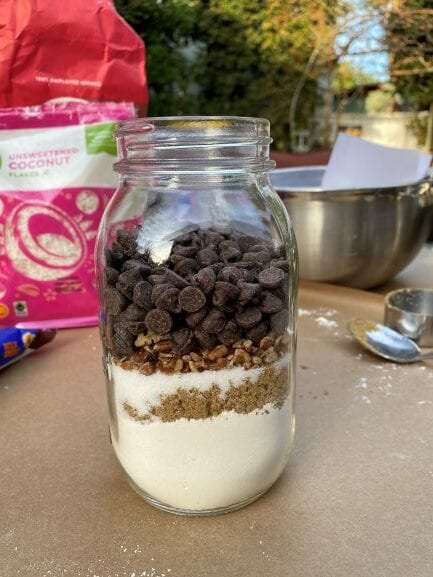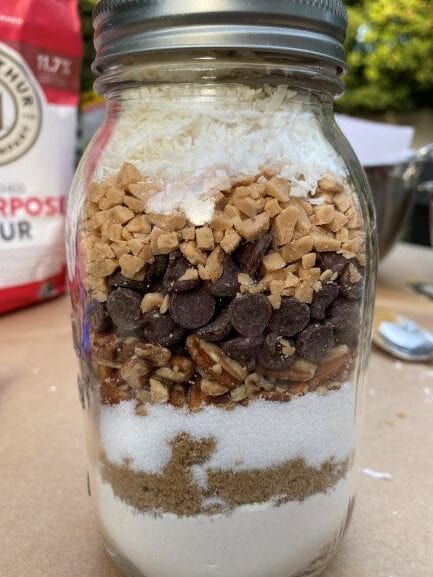 Baking Instructions:
When you're ready to bake the cookies, just tip the contents of the jar into a large bowl, add 1 egg, ¼ cup each of softened unsalted butter and vegetable oil, and 1 teaspoon vanilla. Mix together well but don't overwork. Drop dough by teaspoons about 2 inches apart on a baking sheet lined with parchment paper. Bake for 8-10 minutes or until the cookies are starting to turn golden brown on the edges. Remove the cookies from the oven when they are just slightly underdone because they keep baking for a bit after you remove them from the oven. Let the cookies cool for about 2 minutes on the baking sheet then move them to a cooling rack. Allow the cookies to cool completely.
Add Some Holiday Bling to your Cookie Mix Jars:
Salve and I made some cute toppers for the cookie mix jars using wrapping paper.
We used the top of a cereal bowl as a template by tracing around the lip of the bowl on the back of the wrapping paper. Next, we cut the circles out and then placed the paper circles on top of the jar lids and then tied them in place with twine. You can also use pretty fabrics and decorative ribbons to give the jars your own special bling.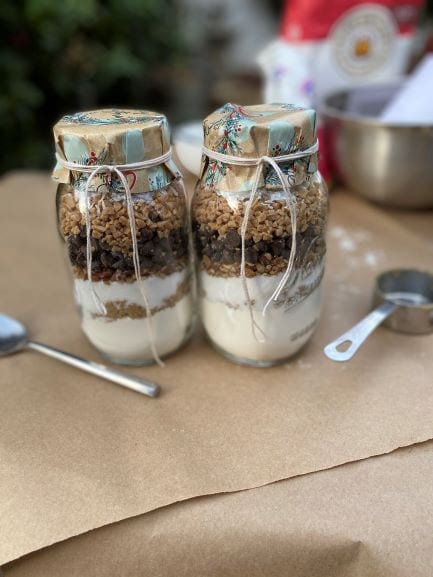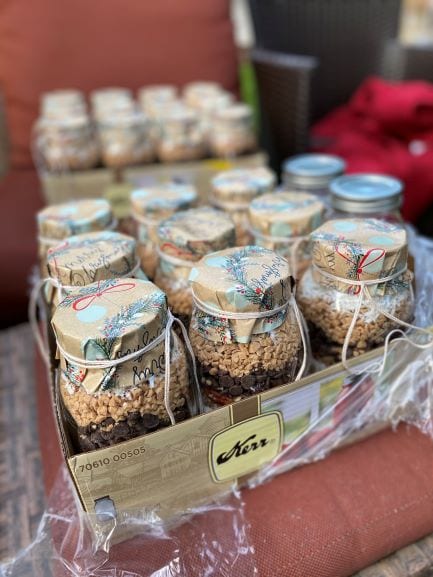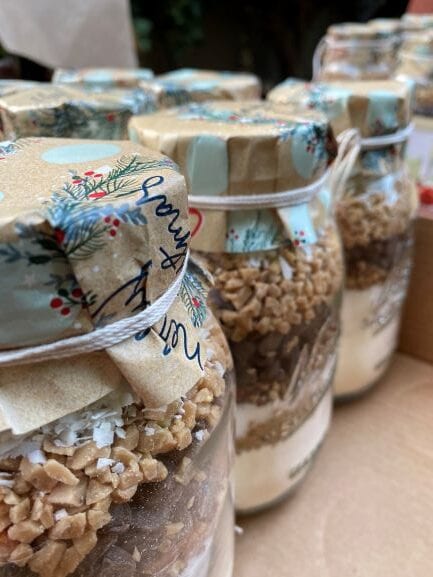 We also printed out the baking instructions onto holiday paper and included it in gift bags with the jars.
As you can see from the pictures, Salve and I are planning to give these cookie mix jars to quite a few people.  We can't wait to give them out and certainly hope our friends will enjoy making (and eating) these delicious homemade cookies.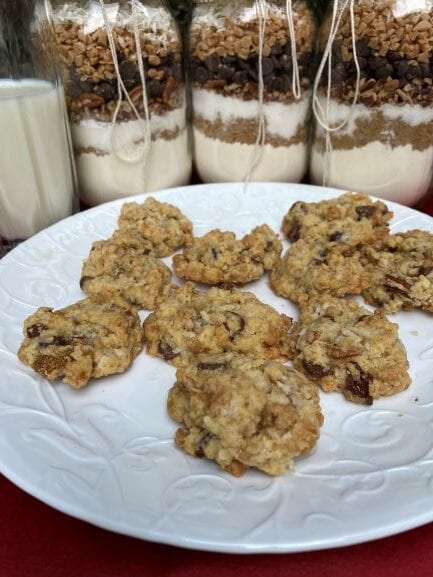 Do you have a favorite cookie mix combination that you love to bake or give away to friends? Any ideas for ones we might try? Send us the recipe and I'll bake it and feature it here on the blog. Happy baking!