Julie Chan Lin of Instagram's "Beyond the Book with Julie" on Career Pivots and Listening to Your Inner Voice
March 6, 2021
/
/
Comments Off

on Julie Chan Lin of Instagram's "Beyond the Book with Julie" on Career Pivots and Listening to Your Inner Voice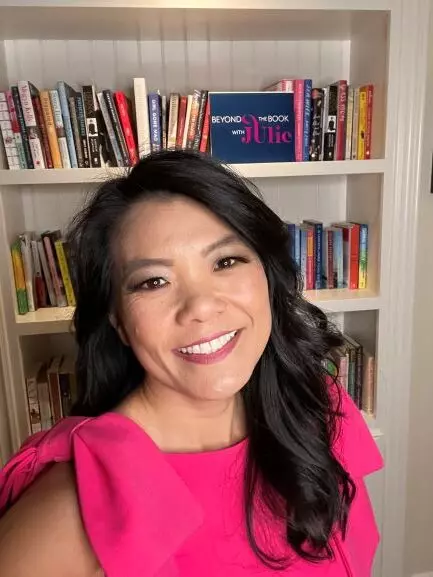 My good friend Julie Chan Lin is the force behind the popular Instagram Live series, "Beyond the Book with Julie." Her heartfelt and always entertaining conversations with well-known authors offer personal glimpses into how the books we love came to be, and the personal journey each writer has taken to make it happen.
Whether she is interviewing royal biographer Andrew Morton (Diana: Her True Story and Meghan: A Hollywood Princess); television journalist Joan Lunden (Why Did I Come Into This Room?); renowned therapists Harville Hendrix and Helen LaKelly Hunt (Getting the Love You Want), or novelists Laurie Gelman (Classmom) and Lian Dolan (The Sweeny Sisters), Julie takes us "Beyond the Book" to get the true story on what we're reading.
I recently spoke with Julie in her hometown of San Marino, California, where we chatted about her start as a television news anchor and how chasing her career goals lead her down a very different path.
You were a news anchor a few years ago but quickly discovered that wasn't the job for you. What happened?
I really wanted to be a talk show host and I knew the best way to get experience was to do the news. After having three children, I decided to pursue a news career and got a job at a CBS affiliate in Oregon. It was a great experience. I got to be a morning news anchor and produced my own show. I had the opportunity to do interviews and discovered that I loved helping people to have a platform to share their own journey and the stories that would inspire others.
When I was in Oregon it was tough because my kids were here in California and I would commute home every weekend. After a year I knew I had to come home. But I still had my dream of working for a network show.
How did you start "Beyond the Book with Julie"?
Around 2017 I saw on social media that Laurie Gelman (wife of Michael Gelman, the executive producer of Live with Kelly and Ryan) had just written her hilarious first novel, Class Mom, about parenting in the suburbs. I reached out to Laurie, told her I was a mom in the suburbs who absolutely loved her book, and shared my idea about hosting a book party for her at my house where I would interview her and have a book signing.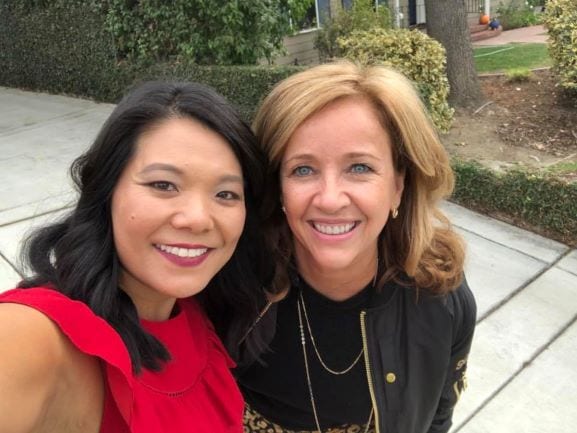 Long story short, Laurie was going to be in Los Angeles to be interviewed on the CBS show, The Talk, and agreed to do it. After the book party I realized that Laurie loved it and everyone who attended loved it. I actually got to interview Laurie a second time about a year or so later about her second book, You've Been Volunteered, when she and her husband were in town for The Oscars.
After that, Laurie's publicist sent me other authors to host and interview. They sent me Julie Morgenstern who has consulted with Fortune 500 companies on organization and had just written a book entitled, Time to Parent. Next, they sent me renowned therapists Harville Hendrix and Julie LaKelly Hunt who had sold over 40 million copies of the book Getting the Love You Want. I interviewed these authors in my home and I loved the experience – the opportunity to interview these authors in front of a live audience, to share the back stories of these authors, to help them sell more books, and for the audience to feel a connection with the author beyond the book.
How did you make the leap to "Beyond the Book with Julie" on Instagram?
I had been doing these in-home author events about once a month for 2 ½ years and I was itching to grow my audience. The last author I interviewed before Covid was royal biographer Andrew Morton. My event with Andrew was so well attended with about 120 people. This was the crossroads for me. I began exploring how I could reach more authors and grow my audience, including starting a YouTube channel and a Facebook page.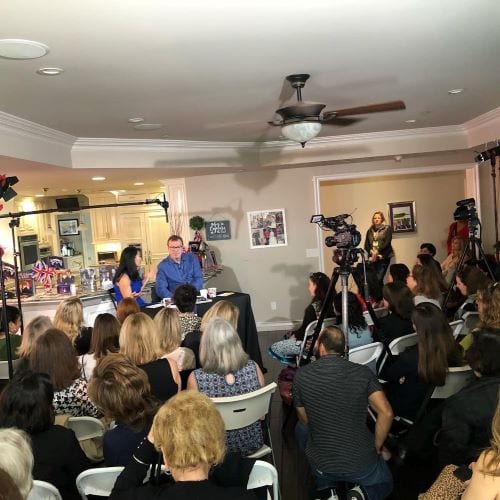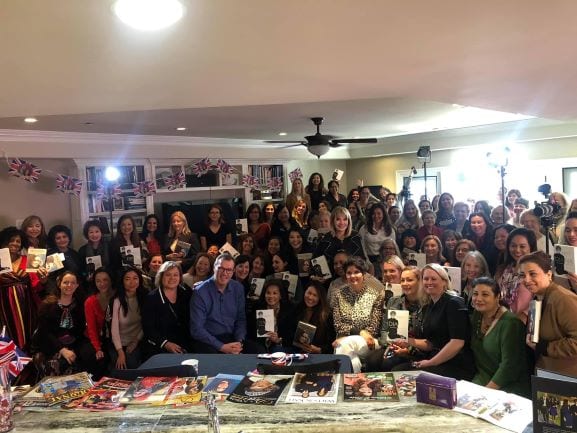 Then Covid happened. I couldn't host anyone at my home. An intern who worked with me and she said if you want to grow, this is your chance. She advised me to start doing Instagram interviews.
I was scared and didn't know how to do Instagram Live. I had a lot of doubt about it and wondered how I would even get authors. But then I started calling authors I had interviewed in the past or who were already scheduled to come to my house and moved them over to Instagram.
How did you build your audience on Instagram?
I decided that I would start doing author interviews every single day. My intern pointed out that I was going from zero to five authors a week and thought it was a bit much. But I decided that we were just going to do it.
During spring and summer 2020 we never lagged. Authors were willing to be interviewed and people had the time to tune in. I was able to connect with so many incredibly influential authors like Eve Rodsky who wrote Fair Play; Joan Lunden who talked about her book Why Did I Come Into This Room? and Gretchen Ruben who wrote The Happiness Project. I had the most amazing privilege of meeting Jane Green (The Friends We Keep) who has been one of my personal favorite authors and got me through my 20s.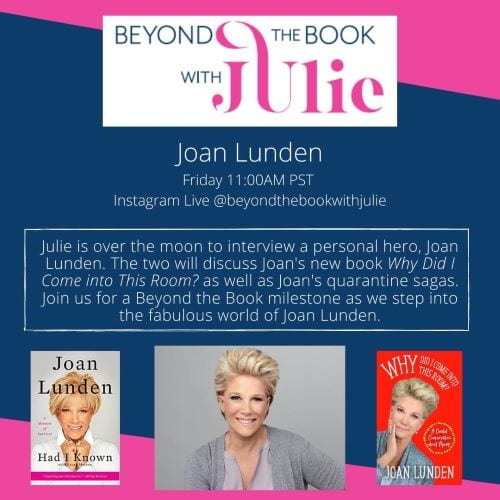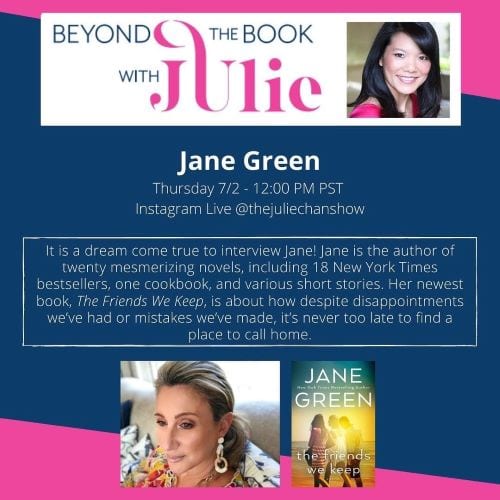 Last summer you began partnering with other Instagrammers as well. How did that happen?
I'm a big fan of Kate Middleton. Back in April 2020 we were coming up to Prince William and Kate's wedding anniversary and I came across Instagrammer @royalteawithjam who is a royal fanatic like me and posts on the royal family. I reached out to her and we hosted a really engaging and lively discussion with audience members about all things royal. We both wore our fascinators and it was so much fun. During the summer we hosted a royal chat every week. Also, Julie Morgenstern and I hosted weekly discussions about how to parent during Covid. It was a really busy and exciting time.
What advice would you give to other women looking for drive or inspiration in their professional lives?
I love this question. It's so easy to get lost in everyone else's expectations and ideals for your life and to lose yourself when you are living for those around you. You know your talents, you are intuitive and you have a calling. Listen to your soul and don't doubt yourself. It's so difficult! I have learned that you have to take time for yourself, follow your inner voice and trust your passion and desires. Your talent is there! Pursue it and stop doubting yourself and stop letting everyone else's voice be louder than your own. These are NOT easy steps to take. I'm still trying to stop all the noise and trust my intuition more.
You took a break after the summer but you are back live. When can viewers watch "Beyond the Book" during the week?
You can find our live Instagram interviews @thejuliechanshow. Or join us on Facebook and YouTube at "Beyond the Book with Julie." You can also subscribe to the email list at www.thejuliechanshow.com/beyondthebook to get weekly updates about authors.
Thank you so much Julie! You are wonderful and I can't wait to see what you will be doing next!