Apple Cinnamon Dog Biscuits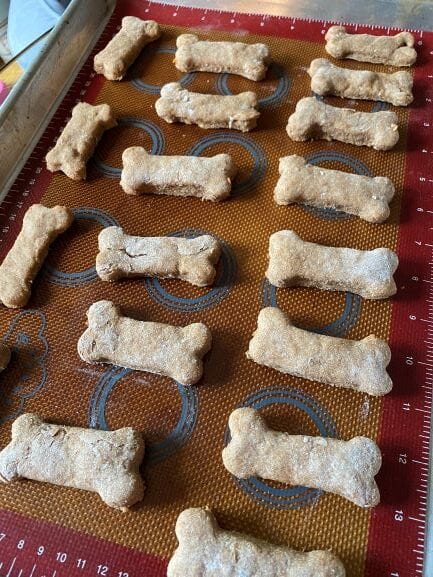 Our dog Buttercup is a doggie gourmet and a genuine food snob. But even she loves these homemade Apple Cinnamon Dog Biscuits created with the help of our friends from the Humane Society!
This is just one of the recipes that the Humane Society asks volunteers to make for the dogs staying at the shelter. Your dog will enjoy chomping down on these Buttercup approved tasty treats, too.
Apple Cinnamon Dog Biscuit Recipe
1 small Granny Smith apple, peeled and grated (about ⅓ cup grated apple)
3 tbsp. unsweetened natural applesauce
¼ cup honey
½ cup water
1 large egg
3 cups whole wheat flour
1 tsp. ground cinnamon
Directions
Preheat oven to 350° F
Mix apple, applesauce, honey, water, and egg in a bowl. Stir to combine thoroughly.
Sift flour & cinnamon together.
Add the flour & cinnamon mixture to the wet mixture in 2 or 3 additions, stirring well after each addition.
Knead the dough by hand until all of the flour is absorbed, and the dough is smooth & flexible.
Generously flour a board or countertop, and roll the dough to about ¼ inch thick.
Cut the dough into about 1″ pieces and arrange on an ungreased baking sheet.
Bake about 20 minutes, until firm to the touch. Allow to cool completely.
Store in a ziplock bag or other airtight container.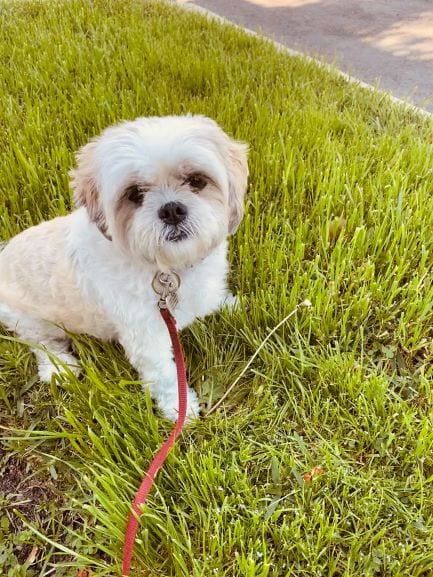 Do you have a favorite recipe for homemade dog or cat treats that you can share with us? I'm always on the lookout for healthy and tasty ways to let our pets know we appreciate them.