Chicken Curry with Honey – a flash from the past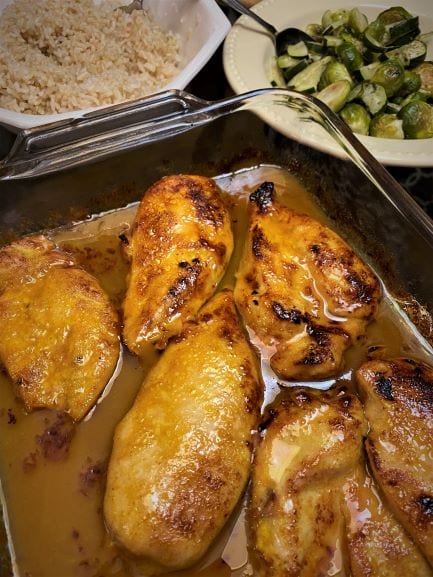 There is no doubt that I love trying new recipes but the meals that mean the most to me are those steeped in family history and tradition. This recipe for "Curry Chicken with Honey" has been with me since childhood.
My mom frequently made this pleasingly sweet yet tangy chicken dish with just a hint of garlic. My earliest memory of it is from my middle school days. As a kid, I could not wait to spoon that wonderful, golden-yellow sauce all over the rice she typically served with it. That sauce and the aroma were the best part.
When I got married in my early 20s, I didn't have many culinary skills, but I could whip up this dish and be proud of it. I served it when we had friends over for dinner because it looked gourmet, grown up, and was deceptively easy to make. And it was a staple for just the two of us, making an appearance at our table at least once or twice a week.
Years went by and my mom's "Curry Chicken with Honey" was forgotten for a while. I kept seeing the handwritten recipe card in the cooking binder she gave me and always meant to get back to it. I finally did so a few months ago then wondered why I waited so long.
When I made this dish for my kids for the first time, I enjoyed telling them the history behind the recipe. Of course, it is now a favorite for them as well and again makes an appearance at our dinner table at least once or twice a week. And with it, so do the memories of my mom making it for me way back when.
The Curry Chicken with Honey Recipe
1 bar of unsalted butter, melted
¼ cup mustard
1 tsp curry powder
½ cup honey
garlic salt
About 1 lb. of chicken breast fillets, skinless
Preheat oven to 350 degrees.
Melt the butter in a 12×9 inch baking dish placed in the oven. In the meantime, stir together the mustard, curry powder and honey. Once the butter is melted, carefully take the baking dish out of the oven then add the mustard, curry and honey mixture. Stir together until well blended.
Sprinkle all sides of the chicken with garlic salt (or you can use garlic powder to cut back on sodium). Carefully place the chicken breasts on top of the sauce in the baking dish. Spoon some of the sauce over the chicken and place the dish back into the oven.
Bake for 30 minutes. Turn the chicken over and baste with the sauce. Bake another 10 to 15 minutes or until done. Take care that the chicken is not overly done.
Note: I usually serve this dish over rice to absorb all that delicious sauce! It really is all about the sauce with this one.
Do you have a family recipe that has an interesting backstory you can share with us? How about a newer recipe that has become a family tradition? We would love to read all about it!