How to Make a Tiered Planter Herb Garden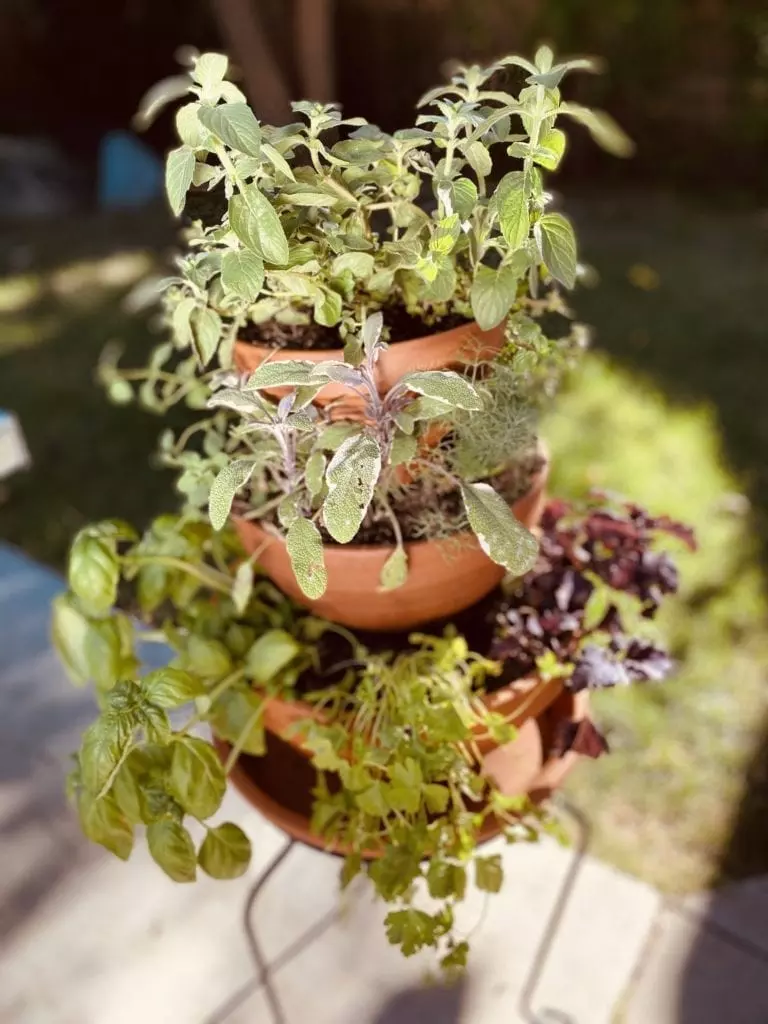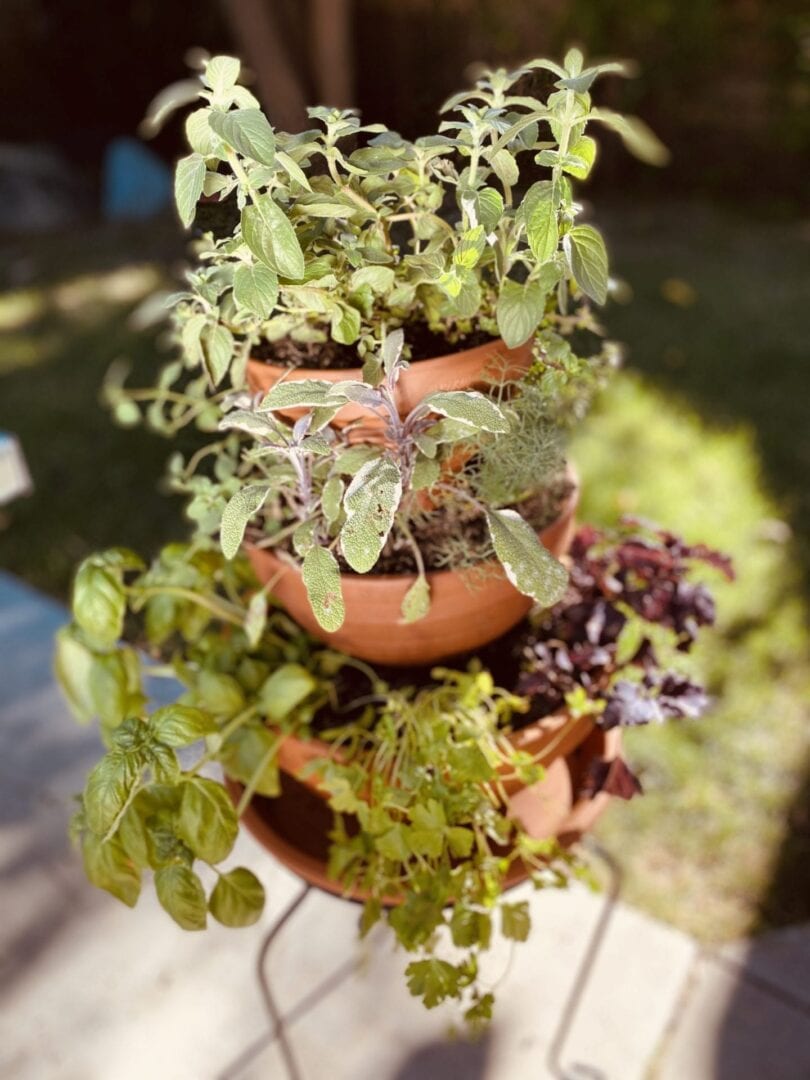 For the past week or two I've been obsessed with the idea of creating a container herb garden.
This obsession was inspired by all the cooking I've been doing during quarantine, and I've really enjoyed the chance to try and create new recipes. Yes, the Julia Child in me is flourishing, with my family (and my waistline) the primary beneficiaries of my mostly successful endeavors.
My favorite way to flavor our food is by using fresh herbs. This is a really healthy way to pack on the flavor without using too much salt. However, it can get a little pricey at the supermarket if I don't end up using all the herbs within a few days due to spoilage.
Then it hit me. Just plant my own herbs! Light bulb moment.
I knew that I wanted to plant a container herb garden located right outside my kitchen door so I can go outside and snip off what I need while cooking. I also knew that I wanted it to be a little unusual and decorative; not too big, not too small.
After doing a little research I came up with the idea of a tiered terracotta herb garden. Terracotta clay material is porous, allowing roots to breathe; plus it helps pH levels for healthier plants. See the photo above of what I created and the steps below for putting this little gem together in no time.
Here are the supplies I purchased from my local garden store: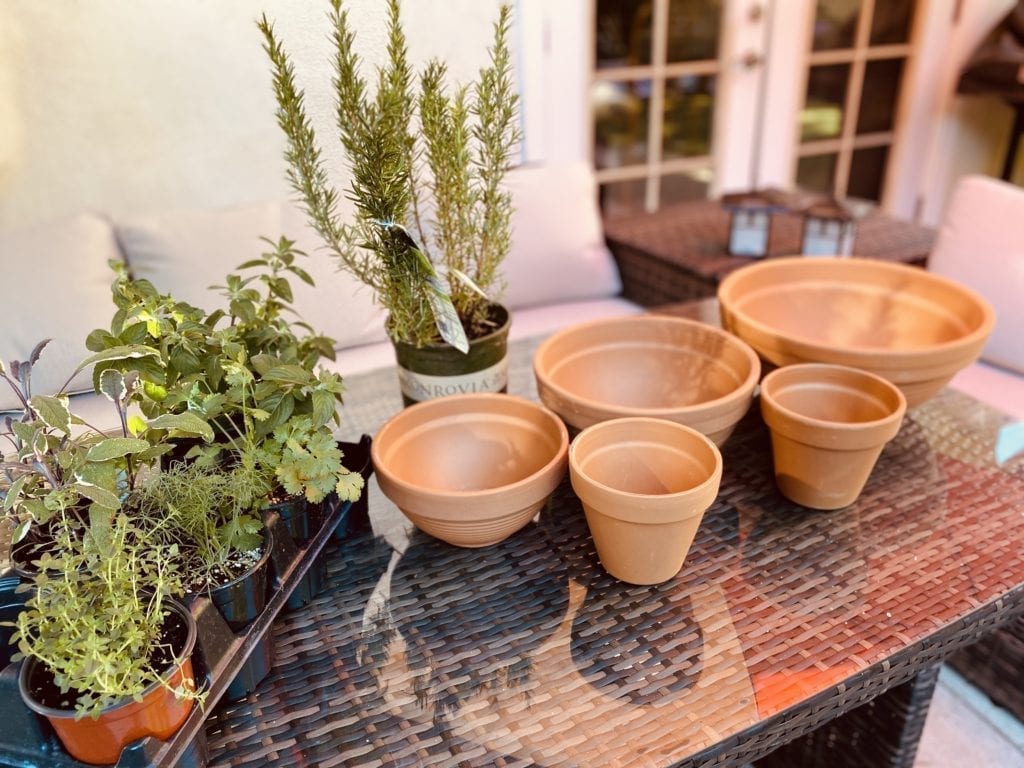 Five terracotta planters and one large saucer.  I purchased three bowls by Pennington Garden Decor that are wide and shallow —  the 12.5" deep bowl,  the 11.25" deep bowl, the 8.25" bowl (you can find them here) plus two smaller basic pots measuring  5.75" wide by 5" tall. I also purchased a 14″ round saucer.  You can play around with planters you already own, or select something different at the garden store, but using various sizes gives the overall project a lovely visual esthetic.
Organic herbs: I purchased sweet basil, purple basil, lemon thyme, cilantro, flat-leaf parsley, oregano, mint, rosemary and lavender. Choose the herbs you like to cook with.
A bag of organic soil. Since I'm only planting organic herbs, I want organic soil too.
Instructions:
Start with the largest bowl then place a 5" tall planter inside it upside down.
Next, place the medium bowl on top of the 5" planter.
Place the other 5″ planter upside down inside the medium bowl.
Finally, place smallest bowl on top of the 5" planter.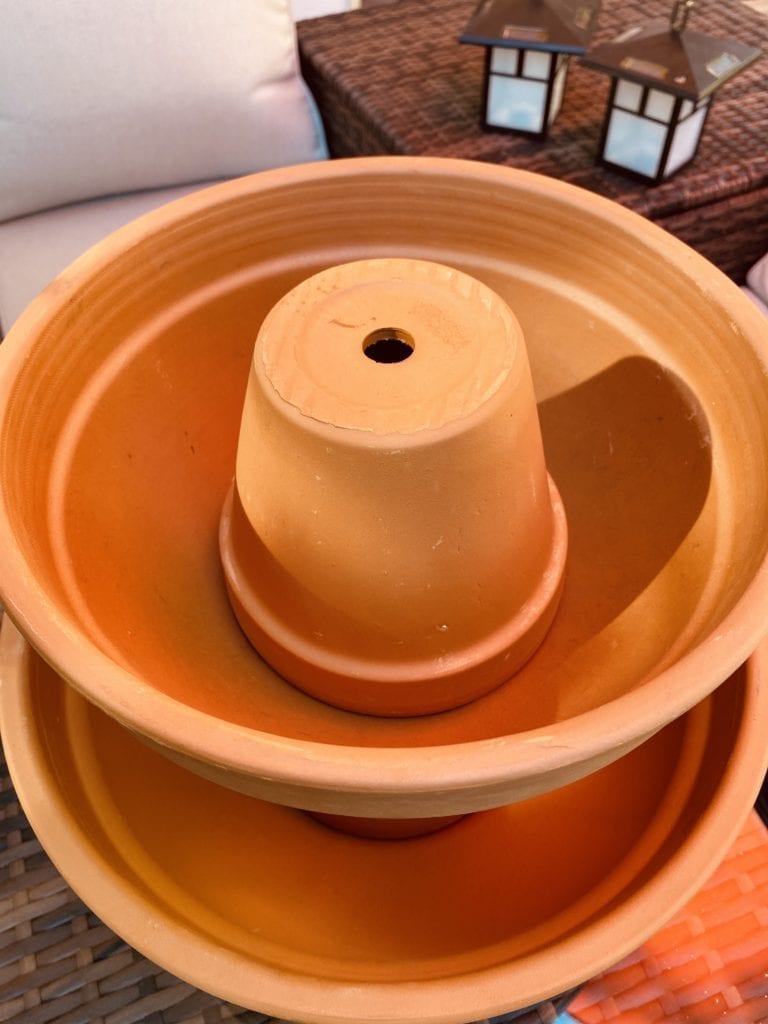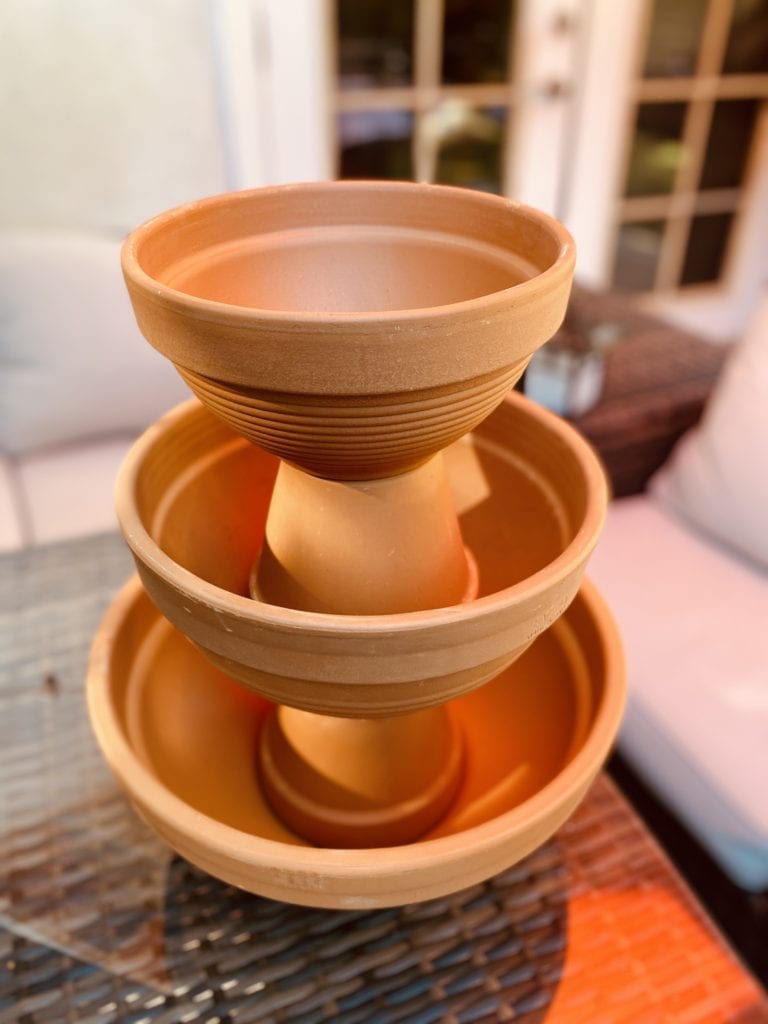 Fill each bowl with soil, then plant your herbs. I cut some of the soil and roots off the bottom of the herbs to help them fit into the planters. I also made sure not to plant the herbs too close together to allow more growing space.
Garden experts suggest that you plant herbs together that require about the same amount of moisture. I planted my basil, cilantro, dill, and thyme together because they all need good moisture. The mint, rosemary and lavender like drier soils so they would do better together in a different container. In fact, these last three herbs tend to dominate their spaces so I ended up planting the mint by itself at the top of the tiered garden and planted the lavender and rosemary together in a separate barrel container (I will cover this in a future post).
And that's it. Once I gathered all my materials it took me about 20 minutes to put everything together and plant the herbs. Doesn't it look lovely?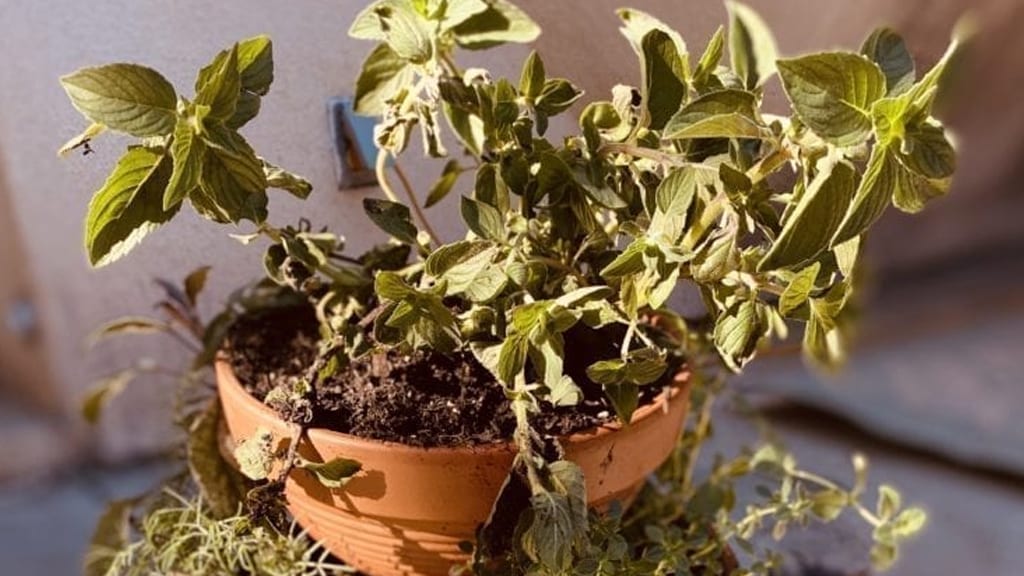 I placed my tiered garden on a large saucer and then on a tall plant stand so I don't have to bend down too low to snip my herbs.
Since the planters are all balanced on top of the other, be careful if you move the entire planter at once. Right after I finished the initial project I decided to lift the whole thing up from the bottom. The top planter fell to the ground and broke, so I had to run right back to the garden store to buy a replacement. It might be better to remove each level if you need to move the whole garden. Another option is gluing the planters together, but I like having them unconnected in case I want to use the individual containers for other projects in the future.
Have you planted a unique container garden or have ideas for one that you would like to share? Send in your photos and a brief description, and I'll feature a few of them here on the blog.